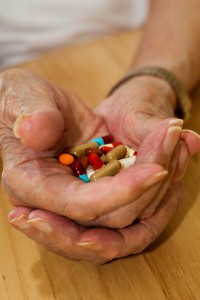 Personer som är över 75 år utgör 9 procent av Sveriges befolkning men använder mer än 25 procent av alla läkemedel.
Ett problem är att många av dessa medel är direkt olämpliga för äldre, ett annat att läkemedel kan tillkomma eller försvinna av misstag när en äldre person flyttas t.ex. mellan särskilt boende och sjukhus.
Apotekaren Anna Bergkvist Christensen studerar i sin avhandling modellen LIMM, Lund Integrated Medicines Management, där kliniska apotekare finns ute på vissa sjukhusavdelningar.
I en av studierna hade nästan alla patienter som kom in till sjukhus minst ett olämpligt läkemedel, medan de som skrevs ut efter att ha vårdats i LIMM-modellen hade betydligt färre olämpliga läkemedel. Modellen uppskattas också mycket av läkare och sjuksköterskor.
Avhandlingen heter "A systematic approach to improving pharmacotherapy in the elderly" och lades fram den 17:e december 2010.
Pressmeddelande från Lunds universitet 20 december 2010